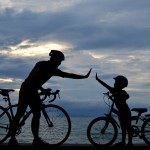 Parent training has been proven to be the most effective intervention for pre-school and school age children with anti-social behavior problems (McCart et al 2006).
Recent guidance produced by the National Institute for Health and Care Excellence (NICE) recommends that evidence-based group parenting programmes should be the 'first-line' intervention for parents of children aged between 3 and 10 years who have (or are at high risk of) oppositional defiant disorder or conduct disorder, or are in contact with the criminal justice system because of their anti-social behaviour.
Research has shown that there are inconsistencies about which children benefit most from parent training. Some studies have found that children who have more behavioral problems at the outset do less well (Reyno and McGrath 2006), whilst in comparison, those with the more severe problems can improve the most (Reid et al 2004). Gender has not been found to be an influencing factor on outcomes.
Aiming to explain the factors that can influence the outcomes of parent training, a recent meta-analysis of the effectiveness of a specific training programme (Incredible Years Parent Training (IYPT)) establishes whether there is variability in effect regarding pro-social and disruptive behaviour in children (Menting et al 2013).
Methods
Menting et al included 50 studies in their meta-analysis. A systematic and comprehensive search for studies was conducted for the period 1980 until April 2010. Databases searched were PsychINFO, Scopus, Web of Science, PubMed, the Cochrane Library and ERIC.
The criteria for inclusion were that the effects of IYPT were examined immediately after intervention; the effectiveness of the approach was examined by comparing with a comparison group; and the study included at least one quantitative measure of anti-social or pro-social behaviour.
Results
50 studies were included with 4,745 participants in total. 2,474 for the intervention groups and 2,273 for comparison groups. Of these studies, IYPT's developer Dr Webster-Stratton was an author or co-author on 13. 92% of the studies were published in journals, with most appearing before the year 2000. The age of the child sample ranged from 3-9.2 years, with more boys than girls being included in the studies. 38.6% of the parent sample were single parents and 44.7% were from minority groups.  36% of the studies focused on vulnerable or at-risk families.
The findings show some important learning about the effectiveness of IYPT:
IYPT is an effective intervention for managing or improving children's behaviour, and there is no difference in whether it is the standardised IYPT approach or a variant of it. There is no evidence to explain why
The effectiveness of IYPT has been found to be in-line with other behavioural parent training
It is effective in both reducing disruptive behaviour and also in increasing pro-social behaviours
Parents reported a greater difference in effect for treatment, rather than prevention; however, there is less room for change where IYPT is used as a preventative strategy
Larger effect sizes were found in studies undertaken in clinical settings, and parents in treatments studies were more likely to seek help than those in preventative interventions, so were potentially more motivated to accept help and modify behaviours
The intensity of the child's problem behaviours prior to intervention are the strongest indicators for intervention effects
Parents reported that the number of sessions attended resulted in more positive responses; however, although no causal relationship was found, it is possible that parents' perceptions improved over time
No other family or descriptive characteristics were found to be a predictor of effectiveness, suggesting that IYPT is beneficial for all children, regardless of their background
Limitations
A limitation of this study that must be noted is related to training quality. Although a programme to try to maximise the application of the IYPT approach is available, it is unclear as to what extent the quality of the training differed between studies. The missing data for moderator's analysis was found to be considerable, and therefore it was difficult to identify trainer characteristics or treatment fidelity.
Conclusions
Like other behavioural parent training approaches, the premise behind IYPT is to influence children's functioning through a modification of parenting approaches. This review has shown that IYPT can elicit positive change in children's behaviours, however, it was not able to examine the long term effects of IYPT, or the modifications and improvements to parenting behaviours.
The results of the meta-analysis might be useful in assisting decision-making around treatment options, as IYPT has been proved to be an effective intervention for all children. As both the manualised and flexible approaches show similar effects, it offers the potential to be tailored to the specific needs of families, with the flexibility to determine their own goals without reducing the level of outcome. In addition, delivering IYPT to diverse groups of families may help to reduce the differences between them and enable them to normalise experiences and identify commonalities.
The positive results of the review support the drive for evidence-based practice, and may be of interest to policymakers, planners and practitioners alike, as an intervention that can be used successfully with a diverse range of families. It seems that IYPT has both the potential to reduce negative outcomes for children, as well as increasing their potential for positive future outcomes.
Links
Menting AT, Orobio de Castro B, Matthys W. Effectiveness of the Incredible Years parent training to modify disruptive and prosocial child behavior: a meta-analytic review. Clin Psychol Rev. 2013 Dec;33(8):901-13. doi: 10.1016/j.cpr.2013.07.006. Epub 2013 Jul 22. [PubMed abstract] [PPT slideshow from lead author PDF]
Antisocial behaviour and conduct disorders in children and young people: recognition, intervention and management. Clinical guidance 158, National Institute for Health and Care Excellence, 2013.
Reid MJ, Webster-Stratton C, Baydar N (2004). Halting the development of conduct problems in Head Start children: The effects of parent training. Journal of Clinical Child and Adolescent Psychology. 33:279-291. [PubMed abstract]
Reyno SM, McGrath PJ (2006). Predictors of parent training efficacy for child externalizing behavior problems – a meta-analytic review. Journal of Child Psychology and Psychiatry. 47(1):99-111. [PubMed abstract]